Thursday, Feb. 1 - Pre-Convention Seminar

Debra Fine, Nationally Recognized Spokesperson, Business Network Authority, and Communication Guru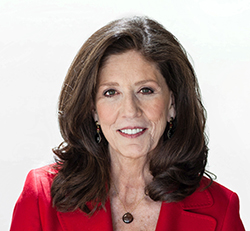 Internationally recognized speaker, trainer, communication expert, and best-selling author Debra Fine will help Conklin Distributors tackle "The Fine Art of Building Business Relationships: One Conversation at a Time" during the Pre-Convention Seminar on Thursday morning. Ms. Fine will share how Distributors can strike up conversation, build rapport, strengthen mingling skills, and develop relationship-building techniques for use at business networking events, meetings, trade shows, as well as when interacting with current and potential customers.

Ms. Fine will also tackle icebreakers and starting conversations, mastering introductions and remembering names, keeping the conversation going, avoiding awkward foot-in-mouth moments, reading body language, overcoming communication barriers, becoming an "active" listener, reviving a conversation, coming up with topics to discuss, approaching social functions with confidence, preparing for successful conversation, and even exiting conversations with grace and diplomacy.

Her extensive background in the art of communication is deeply rooted through her seminars and workshops for organizations and Fortune 500 firms that include Google, Hyatt Hotels, Cisco Systems, NASA, the United States Treasury Department, along with hundreds of insurance, technology, engineering, construction, real estate, legal, financial, and health care associations.

Her recent media appearances include CNN, The Today Show, The Early Show, and NPR Morning Edition.

Once you master building business relationships, every conversation, prospecting situation and business networking event will become an opportunity for success. Don't miss your opportunity, during this special Pre-Convention Seminar, to take your communication skills to the next level with a champion in the business networking industry.
Thursday, Feb. 1 - Opening General Session

Director Talks featuring Senior Director Rod Livesay, National Director Lester Yutzy, and National Director Simon Lee
Listen to three of this year's top Directors as they share how they are going HIGHER, FASTER, and STRONGER in their Conklin businesses and organizations. These Director Talks will include practical insights for business and personal growth in 2018.
Senior Director Rod Livesay
Recognized for their outstanding leadership skills, unwavering commitment to the entire Conklin organization, and incredible business growth, Senior Director Rod Livesay and his wife, Sheila, have built a thriving organization by focusing on finding and developing leaders. With 34 Directors and over 2,000 Distributors in their organization, it's easy to see how they embody the core principles of the Conklin Company: integrity, honesty, personal development, and believing in and mentoring others. Rod will share key leadership insights to help you become a more effective leader and grow your own thriving organization.
National Director Lester Yutzy
As the current Bob Conklin Award of Excellence winner, Lester Yutzy will share how, with more than 200 Managers in his organization, he and his wife, Rachel, are able to lead a champion team. As an example, the Yutzy's organization developed 72 individuals who qualified for Preferred Contractor status in 2017, more than half of the company total! Lester will share how you can achieve more than you ever imagined by working with, supporting, and encouraging your team to dream, set goals, and achieve more.

National Director Simon Lee
Winners of last year's President's Award, Simon Lee, and his wife, Edith, represent Conklin's President's Club with integrity, determination, and excellence in sponsoring and leadership. Over 65% of the new President's Club members recognized at the 2017 National Convention were in Simon & Edith's organization! Simon will share where leaders need to keep their focus in order to generate momentum, develop leaders, and grow a strong organization.
Friday, Feb. 2 - General Session II
John Addison, Sought-After World-Class Speaker, Motivator, and Business Author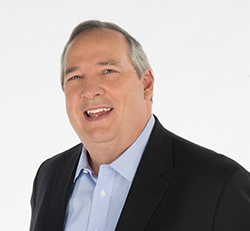 John Addison is renowned for his insight and wisdom on leadership, personal development, and success. Former co-chief executive officer of Primerica from 1999-2015, Mr. Addison emerged as a leader shortly after joining the company in the early 1980s. During his more than 25-year tenure at Primerica, Mr. Addison rose in management and was critical to helping the company transition after the departure of its founder. Following the financial crisis of 2008, he spearheaded the process of separating from Citigroup. These efforts culminated with a successful IPO in 2010 that was 22 times oversubscribed.
Guiding the organization through these monumental changes, while also working to keep morale high, Mr. Addison developed a passion and talent for motivating others that allowed him to inspire and empower over a million people during his career. In addition to his stellar reputation as a businessman, Mr. Addison has made a name for himself as a top-rated speaker, renowned for using his down-home delivery and humor to provide insight and wisdom on leadership, personal development, and success.
Mr. Addison, the newly appointed Leadership Editor of Success Magazine and CEO of Addison Leadership Group, currently serves on the Board of Directors for Primerica and LegalShield, and has previously served on the board of the Direct Selling Association.
His best-selling book, Real Leadership, is full of Mr. Addison's insight and inimitable humor. He continues his quest to build and shape the next generation of leaders during Friday morning's General Session.
Saturday, Feb. 3 - General Session III
Cary Mullen, Internationally Recognized Sports Personality, Keynote Speaker, and Business Leader
As a two-time Olympian and World Cup Champion, Cary Mullen has done 'anything' but tiptoe through life. He has traveled the globe and lived on the edge as a competitive ski racer.

Mr. Mullen has spent more than 20 years studying the success strategies of high performers. On his way to becoming a World Champion, he experienced the upper echelon of success and what it takes to climb out of the depths of adversity. In his 11 years as a leader on the National Ski Team, Mr. Mullen persevered through three near fatal crashes.

When you combine his athletic accomplishments with his successful business background as a serial entrepreneur and published author, it's easy to see why Mr. Mullen is a recognized expert on winning. Mr. Mullen is the author of "HOW to WIN - Achieving Your Goals in Extreme Conditions."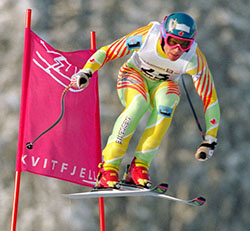 As a former Sales and General Manager for Dale Carnegie Training, he has consulted with many international corporations to help them achieve better results. As an entrepreneur at heart, Mr. Mullen has founded many business ventures, including a thriving real estate investment company and a resort development company based in Puerto Escondido, Mexico. Mr. Mullen understands today's competitive marketplace and the challenges of top leaders and sales teams. His firm is currently building more than 200 condominiums on the ocean in Mexico.

As a philanthropist, Mr. Mullen started and funds a foundation that supports an orphanage in Mexico, in addition to one for children in sports. He also started a foundation that is the main funding source of a turtle sanctuary that in the past four years has rescued and released over 180,000 baby sea turtles.

Through his keynote presentations and training sessions, Mr. Mullen shares what it takes to win in a highly competitive market. His global perspective is enhanced by his former partnership with the world leader in business training. As past General Manager of Dale Carnegie Training, Mr. Mullen knows how to deliver a compelling message that will help Conklin Distributors during Saturday morning's General Session take their businesses HIGHER, FASTER, STRONGER in 2018!